Create your own Classified Ad RIGHT HERE!
Submitted: Thursday 8/13/2015
$6500 - Very good car. for more information call/text 563-880-9933
Submitted: Sunday 8/9/2015
2011 MARS Mastersbilt .front suspension rear suspension fuel cell brake pedals & master cylinders new dominator nose & flares in the box $3,500 for more info call Mike Nutzmann 612-209-0250
Submitted: Monday 8/3/2015
open race trailer with front enclosure/toolbox and winch 2 tire racks. tires are good 2 spare tires lights all work. center of trailer is open. 1800obo any other questions call or text me. xxx-xxx-xxxx thanks Dan Bork
Submitted: Sunday 8/2/2015
Race ready everything you need just get inland go asking 1300 or obo. Comes with spare rims and fans and radiator.More information call or text 5074589288 or email thelitweav22@gmail.com
Submitted: Sunday 7/26/2015
Have for sale two used mylaps transponders. $300 each. very good condition. Price includes shipping to your door. Dave Gorman 641-330-4980
Submitted: Sunday 7/12/2015
Have a very nice 600 mod, car has the best of everything on the car and is guaranteed to get you running up front in no time has an 04-05 Suzuki car was bought new in 2010 for more information and pics call or text 641-229-5416
Submitted: Saturday 7/4/2015
2010 600 Xcel for sale. Has the 04-05 motor with maybe 15 nights on it. Brand new front and rear ends. Extra steering arms, tubes, a couple rims, gears, and the old axles. $7000 with the seat $6800 without. Call or text 319-389-2060
Submitted: Tuesday 6/9/2015
I have chassis 47. 05 suzuki fresh, spare 05 suzuki , wheels front end , dolly , wheel wrench tons of extras , car is clean and straight. 6500$ takes all ,located in Dover Pa, 717-683-2777 text first. I can send you some pics.
Submitted: Thursday 5/28/2015
507-458-8942 call/text with what you have
Submitted: Wednesday 5/27/2015
Race ready hornet asking $1000 cash no trades text me at 715 245 1346.
Submitted: Tuesday 5/19/2015
1995 Acura Integra, 1.8L, Automatic Transmission, NO TITLE, Parts car or Hornet. Runs good, only 119,500 miles on it, damage to Right front, some rust. Asking $800 OBO
Contact Eric @ Elmers Auto Inc. M-F 8-5 if you have any questions or want to come look at the car call either 800-362-5004 or 608-687-9211 x.221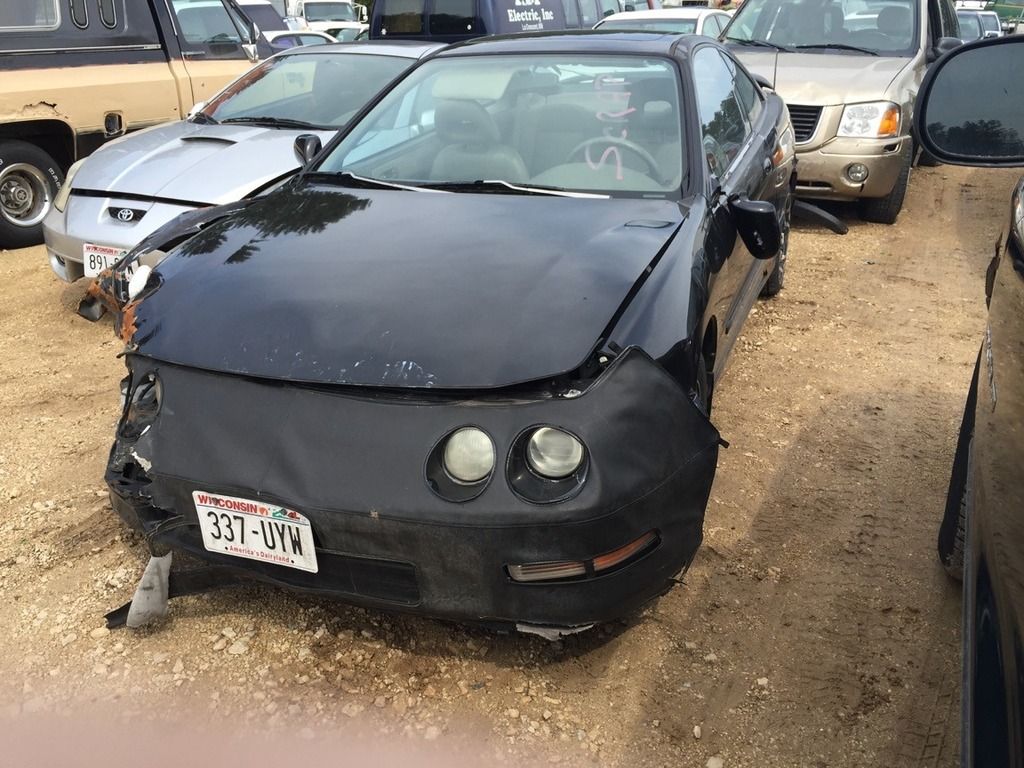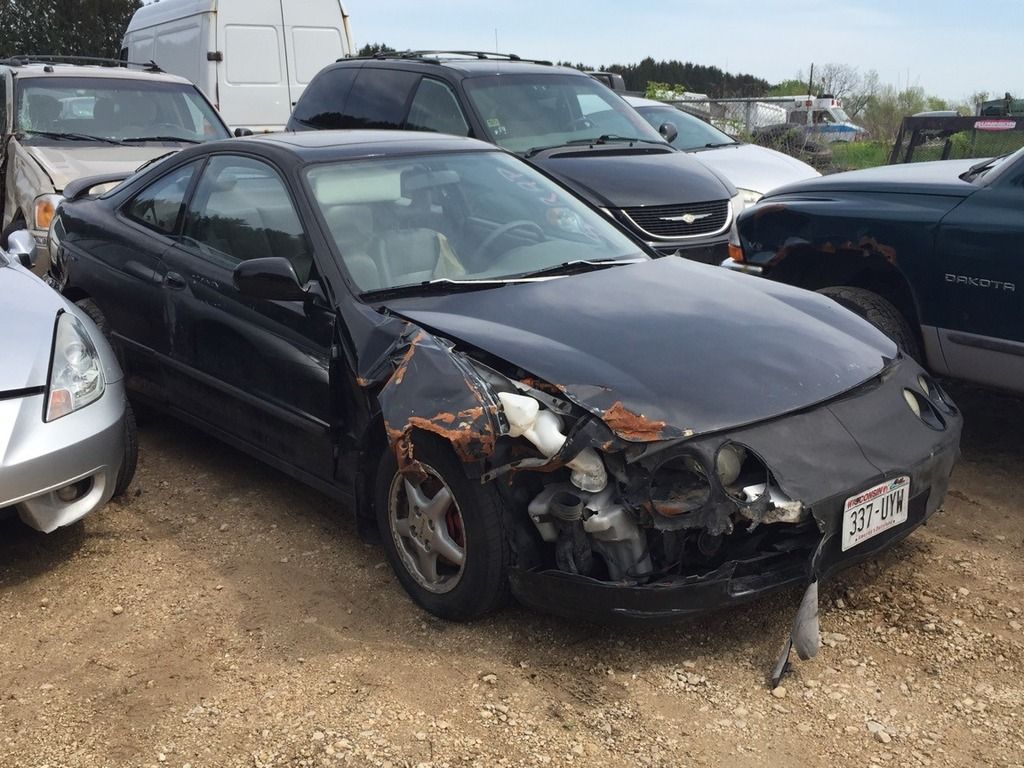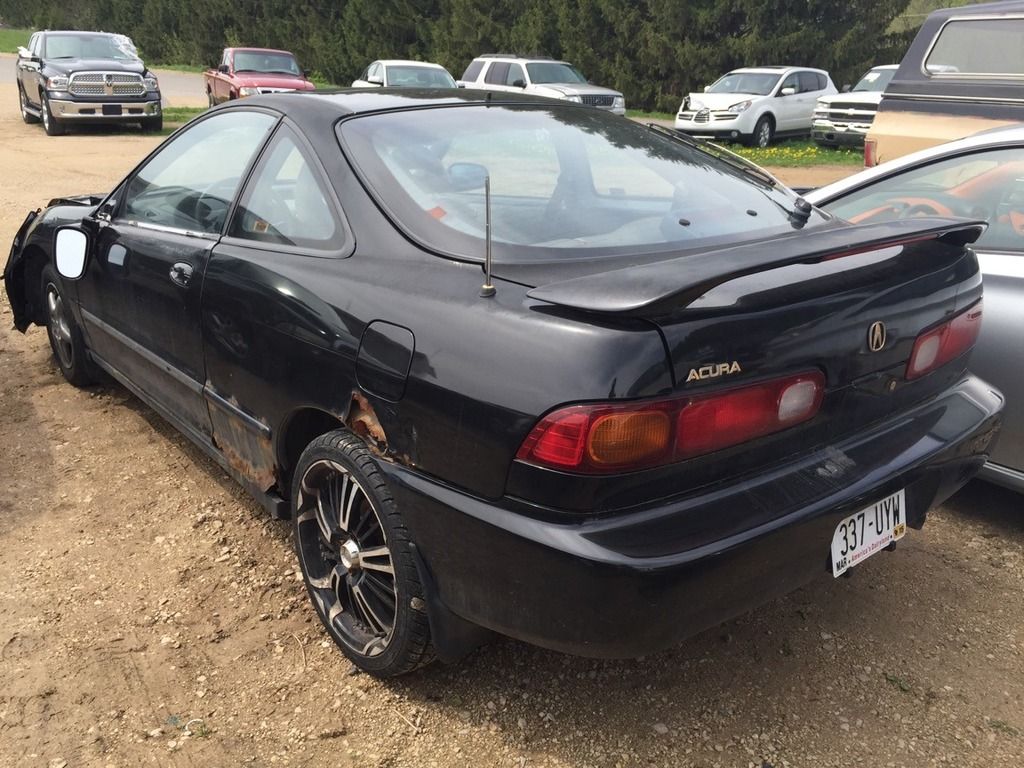 Submitted: Sunday 5/17/2015
Complete usra b mod its a 04 Harris with 06 updates car comes complete race ready with a motor that has very low shows. Also comes with another block and heads and tons of parts. Everything I have for a b mod goes with asking $6000 firm text me at 715 245-1346
Submitted: Monday 5/11/2015
Nice open trailer for sale. Has good sized box and tire rack, built in ramps, electric brakes on torsion spring axles. Call or text with questions or for pictures. $2800 OBO 563-379-7425 Rick
Submitted: Monday 5/4/2015
xcel 600 mod for sale very fast, clean car. Has an 04-05 suzuki and is always a front running car. Comes with pit dolley, tire wrench and can throw in a couple spares for extra cost call or text Jason at 641-229-5416 for pictures and if you have any questions thank you!
Submitted: Sunday 5/3/2015
Nice open trailer for sale, lots of storage, 2 rows of tire storage, lockable box, good winch. $3000 OBO 507-272-1681 Cody
Submitted: Sunday 5/3/2015
Tobias slingshot for sale: New bilsteins 2014. Engine is sealed, can run in Deer Creek and MTS, detachable muffler, new rim gaurds, $4500 or BO. Runs great. Call Bob at 507-458-7039.
Submitted: Tuesday 4/21/2015
slingshot for sale #54 Jett, black body and green frame and chrome rub bars and bumpers. Bilstein shocks, needs motor work.
ALL extra parts go with car black race suit and two pairs of gloves, alfco shocks, spare spring, tires and rims.
In 20 race nights-6 feature wins and at least 10 heat race wins. call 507-923-8189 race setup and records go with it too. If needed we can help with tuning. $ 2200
Submitted: Monday 4/20/2015
im looking to buy a nice open trailer- I have a nice 24 ft enclosed with ramp overs that may be willing to trade or may be forsale after I find an open one 507-459-0918 winona
Submitted: Wednesday 4/8/2015
2002 GRT roller. Wilwood brakes, hubs, Franklin quick change, 32gal fuel cell, all updates by GRT. All extra GRT parts included. No engine, transmission, wheels or shocks. Raceable body. $3200. 920-918-3145 or email rocketjeff5@yahoo.com.
Submitted: Wednesday 4/8/2015
Race ready 2012 Rocket Orange late model. Full containment seat, Birky lift bar, Winters liteweight QC, 2012 PRI show car, best of everything. Complete less engine, trans, wheels and shocks. $15,000. 920-918-3145. rocketjeff5@yahoo.com
Submitted: Thursday 4/2/2015
2012 not raced tell 2013 with 20 shows 2013 raced in 2014 with 15 shows Also have a new car I would consider selling. Please call or text for better details. I can make almost any deal work let me know what you need. 320 226 3729 or rowapplicators@gmail.com
Submitted: Wednesday 3/18/2015
Mini Mod For Sale – Great car – 2013 Points Championship, 2nd place in 2014 - Very healthy engine, car in good shape. $3,800 – Call: Brett 608-248-3017 or E-Mail: csladuke@wmt.net
Submitted: Thursday 3/5/2015
Xcel 600 Mod for Sale.

Has the 04-05 Suzuki engine that is fresh with a new head and valves. The cylinders all hold 100% compression on a leak down test. Work, inspections and sealing was done by CRS (Cook Racing Supply).

4 Bilstein shocks on the car. All wheel bearings were replaced and have only 2 races on them. Car has a lot of good parts, many with few races on them, and is well maintained. Have some extra parts that could be sold with the car.

Asking $6,500.
For questions or pictures, text or call Keith at (xxx) xxx-xxxx.
Submitted: Thursday 3/5/2015
Slingshot for sale, Very little use, clean car. Clutch, billstien shocks, tires, and both axles only have 3 nights on them, sealed motor only has 7 nights. Extra rims, tires, front and rear axles, air filters, moving cart, and anything I have for the car goes. Cash only.
$ 4700.00 Race Ready. 507-450-5107 Curt Luhmann
Submitted: Tuesday 3/3/2015
Powerglide tranny 300 b.o call or text (507)313-9540
Submitted: Sunday 3/1/2015
Circle Track Race Car- Hornet, Bandit, Short Tracker, Mini Stock, Bee, Enduro

2004 Nissan Sentra SER Spec V
Turnkey
2.5 Liter QR25DE DOHC 4 cylinder motor (Fresh- 0 lap- JDM motor just installed this winter)
6 speed manual transmission
detachable steering wheel
full roll cage
race seat
5-point race harness (belts)
Kyle Stark built race car (Mod4 Mulisha)
$3000 with Stock aluminum wheels

$3600 with race wheels and tires:
6- Bart Mini-stock steel 14" race wheels (brand new)
6-Brand new 195/60/14 tires

Same make/model car as the the one I drove to the 2013 Cedar Lake Speedway Hornet Track Championship

Cash $3000
Contact for pics and details
Barret 608-332-7175
performance19@yahoo.com
Car is in Prescott, WI

Submitted: Sunday 3/1/2015
1980s chevy caprice Turnkey 3000obo ran at the fall festival finished 3rd and 5th call or txt 7152075944
Submitted: Thursday 2/26/2015
2005 BLUE GREY FRONT LOW NIGHTS COMPLETE ROLLER ALL NICE STUFF 5500 CALL JERRY AT 319-269-9734
Submitted: Thursday 2/26/2015
05 BLACK ROCKET BARE FRAME WITH COCK PIT AND BRAKE LINES RACED LAST YEAR WITH 16 TOP 5 AND TWO WINS IN 30 NIGHTS GOOD CAR CONTACT JERRY xxx-xxx-xxxx
Submitted: Wednesday 2/25/2015
This is bare frame with Rearend, Fuel Cell, Brake lines with right front shutoff, have the decking. $1800 OBO. want gone dont have room for it. Also have bert tranny for $900. only has 15 nights on rebuild of tranny. waterloo, ia 319-404-1069
Submitted: Monday 2/23/2015
Looking for a used Slingshot for my sons to race. Call me at (xxx)xxx-xxxx Jason.
Submitted: Wednesday 2/18/2015
seat belts- 2 sets of five point seat belts in excellent condition $20 take your pick 507-459-0918
Submitted: Tuesday 2/3/2015
Ran Wissota last year 2006 Galloper Chasis Complete car with 50 races on motor, 6 nights on rebuilt power glide tranny Three sets of gears (633,583, 567) 4 Extra rims and 2 bead lock rims New 3 pass radiator in box Many other extra parts included $5,000 OBO or will trade for fast pure stock (715) 797-5550 Dean
Submitted: Wednesday 1/28/2015
1998 dodge 1/2 ton extra cab red mick glenn truck runs great 168000 miles needs tires is rusty must sell 2000.00 O B O SERIOUS ONLY good starter or work truck. 507 226 4268
Submitted: Tuesday 1/27/2015
2006 action chassis built by Mike Sorenson/Fegers. Complete roller includes: All brake lines, all fuel lines, all power steering lines, shifter linkages, mid plate, 9" ford rear end, drive shaft, 4 shocks and springs, radiator, 15" seat, guages, wheels and tires and many spare parts. Comes with setup sheets. $2500 for full roller Conatact Ben Anderson @ 507-313-4483 bta.ofi@gmail.com I have pictures available. Thanks for looking
Submitted: Sunday 1/25/2015
Kirkey 16 inch seat with cover and head rest in A-1 cond. $150 xxx-xxx-xxxx
Submitted: Sunday 1/25/2015
left and right nova lower a frames with shock mounts $80 for the pair 507-459-0918
Submitted: Sunday 1/25/2015
Saginaw 3 speed tranny, racing T10 tranny, (2) Kammler clutches, Quarter Master 8.5" clutch, Quarter Master hydraulic clutch, Kammler hyd clutch, throttle pedal, floor mount brake, (2) 7/8 bore master cylinders, steel bell housing, many AFCO coil over springs, AFCO and PRO coil over shocks. rocketjeff5@yahoo.com.
Submitted: Wednesday 1/14/2015
For Sale:
2011 Victory Circle by Moyer Late Model
- Bulldog DMI Rear End, BSB Birdcages/brackets, Quickcar Extreme Gauges, MSD 6AL, Sweet Rack/Collapsable shaft, Outpace trailing arm rods, 32gal. wedge cell. All Very nice equipment. never bent Drop in your motor and tranny and go racing.
Complete roller minus wheels.
East Grand Forks, MN
218-779-7730 call or text for details
Submitted: Wednesday 1/7/2015
2013 Xcel 600 modified
---
Has the 2006 Suzuki motor which was new the beginning of season. Has upgraded new front spindles, 4 Bilstein shocks (new beginning of season), like new radiator. Comes with everything you need to race, except the seat and roof. Has the new body style. The rear axle is a little bent, I raced it the way it is for 1/2 a year. A rear axle runs about $260.00, you can get it straightened. There are a lot of spare parts, too many to list. From gears to rims & tires, spindles, etc. The car ran at Five Mile Point this past season. The car is located in Central New York. Asking $7,800.00 for car and parts. Will separate parts. Any questions contact Doug (315) 729-6087.
Submitted: Sunday 12/28/2014
looking for racing seat and sbc manfolds call text 507-313-9540
Submitted: Monday 12/15/2014
600 MODIFIED FORSALE the newer style chassis with freshly replaced 07-08 motor with 2 races on it. Comes with extra sealed engine and a bunch of spare parts, tires, ect. to get you started. Really a straight car $6000 OBO call Brian xxx-xxx-xxxx
Submitted: Monday 12/15/2014
Slingshot race car for sale new body and all new suspension, recent engine rebuild maybe 6 races. Many extra parts along with fresh sealed engine, tires,springs , ect $4000 OBO please call Brian xxx-xxx-xxxx
Submitted: Saturday 12/13/2014
Turn key crate 604 bob pierce 2009 late model. Asking $10,500. Car is complete and ready to go racing. Sweet rack, bert ballspline, brand new bellhousing, starter, triple.oass radiator, seat, all ignition and gauges wired in. Advanced racing shocks valved for this car. RF is adjustable and the LR in top is adjustable as well. Have wheels and tires on the car as well. Located in Fairview, IL. call or text 309-224-0481
Submitted: Friday 12/12/2014
04 MasterSbilt Smackdown #0392W
MasterSbilt Front Suspension including one piece lower A-frames
Appleton 3.4 rack
26" Radiator with fan shroud
Wilwood Starlight Hubs
Wilwood NDL Capilers (1 season old)
Winter Sprint Center QC (4.86 RP / 6.32 gear currently)
Mars Birdcages and Lift Bar
Wehrs J-Bar and Monts
ATL Sport Fuel Cell
Out-Pace Control rods
Ultra-Sheild Seat
QuickCar digital tach
good interior and decking / decent usable body
Spare parts...2 steel 1 aluminum driveshafts..5 non BL 1 BL wheels..3 RH lower A-frames..1 LH Lower A-frames..1 upper A-frame each side..2 RH spindles..1 LH spindle..2 boxes of springs many rates..many many D-55 tires

First $2000 takes

Dennis Hillson xxx-xxx-xxxx
Submitted: Wednesday 12/10/2014
Hi, I am selling 06 or 05 Xcel 600 modified in great shape, not raced alot, has many extras like kinny racing seat whole front axle with all the bars, extra tires and rims and more for pictures and questions please call 4842392185
Submitted: Saturday 12/6/2014
Complete package consist of a 2003 Chevy Silverado 2500HD 6.6L Diesel, 600 excel Modified with new suzuki motor with 0 races on it ,The trailer is a open trailer with newer tires on it.
The Chevy has 204,000 miles on motor 2000 miles on remanufactured Allison transmission.
The tires on truck have less then 12000 miles on them.$17,500.or best offer
NO TIRE KICKERS ,NO JOY RIDES SERIOUS BUYER
If interested please email me at dwarfdawg56@yahoo.com
I can send pictures via email, not able to post here.
Submitted: Sunday 11/30/2014
Montana racer looking for Wissota super stock with Ford nose or front piece. Under 10K if possible, turnkey with all updates. Thanks! 406-600-1064 Mark
Submitted: Thursday 9/25/2014
2014 XCEL 600 car for sale it has 8 races on it and 7 wins serious call only, xxx-xxx-xxxx Joe Provinzino
Submitted: Wednesday 9/17/2014
I am selling my 04-05 suzuki xcel motor. It has placed in the top five many times this season. I have upgraded to a newer motor and the two are not compatible. I am selling the motor with, front motor mount, wiring harness, throttle bodies, headers and new style pipe, air box, cage that goes around the motor and what ever else I can find that goes with it. Looking to get 900.00 for everything but will negotiate. Located in Winona. I am also selling my Triton Aluminum snowmobile trailer that has been modified to carry a xcel 600 car and parts and tools. This is an awesome trailer but I need to have a home outside the garage for my car in the winter so I need to buy an enclosed trailer. My loss is your gain. THe trailer has mounted retractable straps to hold the car with stop blocks for the front tires. It also has an 8 foot tool box mounted on the side that holds fuel, parts, tools, etc. I will include my tool box and air compressor if the price is right. I have wired the box for power and has under cabinet lights for night time racing. I also have a mount with flood light in case it gets dark in the pits. The final touch is a tire rack that will hold all of your spare racing tires. The trailer has newer tires and the spare is brand new. You will not be disappointed with this trailer. The woodwork for the 8 foot box is professional quality and it even has a place to put the ramps which are included. The trailer is located in WInona. I plan on racing in Fountain City for the Fall Festival but will sell the trailer immediately. Casey Indra 507-450-5993 casey.indra@winona.k12.mn.us Casey Indra 507-450-5993
Submitted: Tuesday 9/16/2014
Looking for a transponder for MTS . 608-780-2566
Submitted: Saturday 9/13/2014
All 4 3/4" Bolt pattern. Beadlocks 4" offset.
1 Bassett Beadlock with Hoosier 35. 85" Newer tire no nights=$120
1 Bassett beadlock with Hoosier 35. 84" 3/4tread/siped=$100
1 Bassett 3" offset wheel with Hoosier 35 83-3/4"....3/4 tread/siped=$100
Winona, Mn
Derek. 704/575/6678 Need gone soon!
Submitted: Wednesday 8/20/2014
2009 Xcel 600 Modified for sale. 05 Suzuki motor with newer body style. Car has all new Bilstein shocks, birdcage bearings, front bearings and rear tires. Have lots of spare parts to go with car including last years body which is still in good shape. $6500.00. I also have 3 -05 motors, one sealed by Xcel race ready, and two that are spares not sealed yet for additional $$. Car is currently racing at Five Mile Point Speedway in Kirkwood NY. 607-765-7531 or e-mail Chevelle114@hotmail.com.
Submitted: Sunday 8/10/2014
Xcel Modified Roller $5,000
Contact: Carl Lovelace
Ph: (865) 389.9497
Submitted: Wednesday 8/6/2014
For sale, 2013 Xcel 600 mod, 15 feature wins and many to 3 finishes. Currently first in points in the Xcel modified touring series, first place in Upper Iowa speedway track points, 2nd place at Mississippi Thunder Speedway track points. Car will be sold with my setup in it, Car will be available on August 31. $9500. as is, or $9500. with a new body, your choice of colors installed this winter and I keep my seat. Fast, great handling car. 507-45-5107 Curt Luhmann
Submitted: Wednesday 8/6/2014
2010 Xcel 600 Mod for sale, 2005 Suzuki motor, this car is currently used as my rental car, very little use on this car and only 7 nights on the motor. Car handles excellent and is in perfect condition. $6500. 507-45-5107 Curt Luhmann
Submitted: Tuesday 7/8/2014
I am selling my 2009 Fegers car, chevelle stub, it was on the jig this past winter and had the front end updated and also the rear end was updated. The car is straight and has all new bolt on parts, new rear end, new sliders, new uppers and all ball joints, lowers are one year old, all new steering and spindles, all new brake calipers and hawk black brake pads. The car sits as a complete roller, fuel lines, battery cables, everything is there. All you need is your drivetrain, seat, and shocks. This car has won races as a USRA Modified and also multiple races as a USRA B Mod. If you have any questions call or text me, 507-313-2093

Erik Kanz
Submitted: Wednesday 6/25/2014
377 Cubic Inch Gramondbeck Competition Engine
*Iron Eagle rods & crank
*Manly pistons
*Gramondbeck selected cam
*Dart heads...
*Roller rockers
Engine was originally in an Outlaw Hobby Stock Car. Would make a great Stock Car engine. Located in Decorah, IA-asking $3,000 FIRM.
Would consider trades, especially for small enclosed trailer. Let us know what you have!
Call or text Keith at (563) 419-4099 if you have any questions.
Submitted: Tuesday 6/24/2014
2009 Fegers superstock with 2011 updates. Best of the best on this car and well taken care of. Wagamon motor with around 15 shows and freshly gone through. Selling turn key, with lots of spare parts! $8500 OBO 507-272-1681 ask for Cody.
Submitted: Saturday 6/21/2014
We are looking for a slingshot for my 12 year old son. Complete car with extras, No Junk!! Please call or Text, 507-363-0515. If no answerPlease leave a message. Thanks
Submitted: Saturday 6/14/2014
Looking for a Raceceiver. Need one this week! If anyone has one laying around send me a text. 704-575-6678. Derek.
Submitted: Tuesday 5/27/2014
For sale. Transponder. My laps.. $325 located Winona mn. 507+961+3954
Submitted: Thursday 4/10/2014
2009 affordable with Adams Dart headed motor with Willies, Beyea,and Bert. Kirkey full containment seat. Chassis has very low number of shows, motor has even less. New sides and deck, All top quality parts. Race Ready!! This car is in excellent shape and looks sharp. $7800 phone: xxx-xxx-xxxx can text pics if interested. This is ready to hit the track just needs lettering!!
Submitted: Wednesday 4/9/2014
I had more 600 mods shipped here from out east, they are all race ready with good bodies. Some of them are the newer style car with the 07 motors and some of them are the older style with the 05 Suzuki. come join this fast, exciting, affordable, and very competitive class. Unsure about buying before you drive one? Give me a call to schedule the rental car for a night of racing. Prices range from $6500 to $8300 depending on the car. These cars wont last long come spring.
xxx-xxx-xxxx
Curt Luhmann
Submitted: Monday 4/7/2014
I have for sale a pit bike SSR 110cc any questions feel free to call 507 410 2040
Submitted: Monday 4/7/2014
SA2005 or SA2010 helmet, size M-L (Must have the certification label on the helmet) and Fire-retardant FIA- or SFI-rated gloves S-M (also with label)
call or text Bryan 507-429-8251

Submitted: Saturday 4/5/2014
I have a 2006 street stock metric chassis with a 73 chevelle body on it. This car will include an older bushore tranny, gears, seat, spare rims, lots of springs, and Baiers motor (that is in need of work, but lots of good parts). Will part with the whole package for $2500. I also have a fresh 350 (never bored) chevy motor that could go with. Call xxx - xxx - xxxx MOVING, must sell!
Submitted: Wednesday 4/2/2014
6 Pro shocks SB63 used 3 seasons on xcel 600cc

100.00BEST OFFER

607-765-7531
Joe

Submitted: Saturday 3/22/2014
2013 Xcel Modified $7500


Carl Lovelace (865) 389.9497

(Area code 865 serves Knoxville, Tennessee, and the nine surrounding counties)
Submitted: Thursday 3/13/2014
Baiers street stock engine fresh with 993 heads, has guide plates, intake to pan, pan has inspection plug, intake has the water neck with the lines for extra cooling $2600 OBO 507-450-8424
Submitted: Thursday 3/6/2014
08 Xtreme super stock chassis, good handling car. can be sold in almost any stage of completion from turnkey hit the track to roller.. currently has troys shop dart head engine with 17 shows since brand new and bert tranny with less than 40 shows since freshened in it. all ball joints and bushings replaced 17 races ago. qa1 shocks msd, willys carb this package won feature the last time it was on track at mts. can help with setup.. 3rd place in pts last yr. call/text xxx-xxx-xxxx thanks Dan Bork
Submitted: Tuesday 2/25/2014
Set of intercom scales for sale. I bought a car and they came with, but I already have a set. Asking $800 NEW PRICE - $700 for the scales.
I also have an extra transponder I am looking to sell. I am asking $250 for this. TRANSPONDER IS SOLD
Please call xxx-xxx-xxxx
Submitted: Wednesday 2/19/2014
FOR SALE
2013 MISSISSIPPI THUNDER SPEEDWAY
600 Mod Points Champion
---
The Chassis has been updated for 2006-2007 engines and is currently powered by a 2006 GSXR Suzuki Engine with only 2 nights racing on it.

This 600 Mod looks GREAT wearing the newest body style and handles like a dream compliments of the new style front spindles with front brakes!

This car is ready to race and win as it sits for $7300.00

For further information or to schedule a viewing, please contact Don at: xxx-xxx-xxxx
Submitted: Friday 1/31/2014
6:50 gears LW full spool low shows $300.00 CS 500 Holly $150.00 608-863-0392 Don
Submitted: Sunday 1/26/2014
Slingshot by Tobias - Very good condition overall but does need some engine work. $3,000 or make an offer. For $3500, I will have the engine fixed first. Brett LaDuke 608-248-3017
Submitted: Sunday 1/26/2014
Mini Mod - Good car - won Points Championship in 2013! New engine at the beginning of the season, very healthy. $4,500 Brett LaDuke 608-248-3017
Submitted: Thursday 1/16/2014
600 Modified for sale. In really good condition, has been in no wrecks. Purchased in 2008. Asking $6500 or reasonable offer.

Price REDUCED down to $5000! We are motivated to sell if you are interested!

Call Brett LaDuke xxx-xxx-xxxx
Submitted: Saturday 1/4/2014
I have several Xcel 600 Mods for sale, Some have 2005 motors, and I also have a couple with the new style 2007 motor. All of the cars will have good bodies and will be in good mechanical condition. Price varies depending on the car. Give me a call and get your car before they are gone!!! This is a fast growing class that is very fast, competitive, and cheap class to race. If you would like to drive one before you buy, give me a call to get on the calendar for the rental car that will be at MTS on Friday nights.
507-450-5107
Curt Luhmann